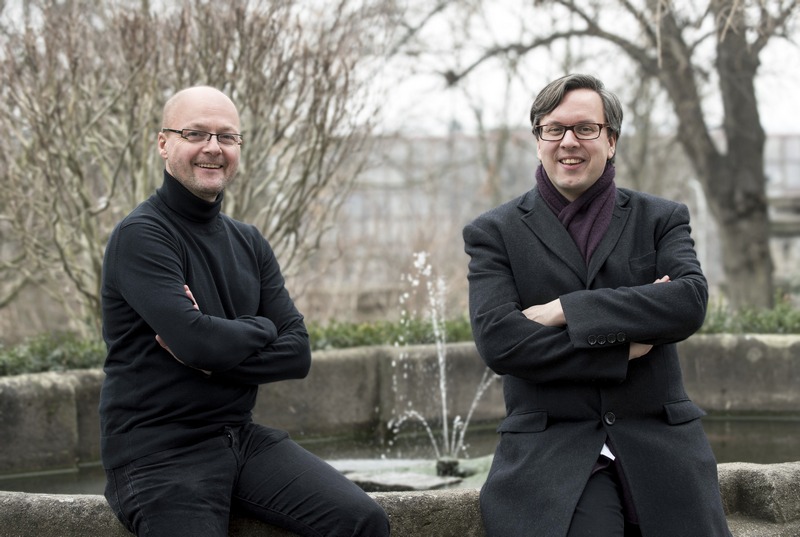 HARMONIE si občas dopřává experiment, kterým chce posunovat vydavatelské spektrum české hudební žurnalistiky. Patří sem i první diskuse dvou špičkových dramaturgů o jejich profesi. Oba jsou spjati s festivalem Concentus Moraviae nebo s Českými sny. Celý rozhovor v češtině naleznete v květnovém čísle, na webu mimořádně přinášíme anglickou verzi.
AB: Jelle Dierickx, can you introduce yourself to readers?
JD: That is like asking somebody to explain Belgium. I always say it is a non-existent surrealistic kingdom between France, Germany and Holland.  But more seriously... I came to music thanks to my mother. When I was three, she sent me to a pre-kindergarten music school where we had claves. I went tuk, tuk, tuk and I remember thinking it was fun. In my youth, Berdien Stenberg was a very famous flautist in Holland, and like all children I also started playing the flute because of her. When I was able to make my own decision about which instrument to play, I said the bassoon, because I like its sense of melancholy and at the same time its humour. I went to music school and often played with the orchestra but I soon realised that organising concerts was my cup of tea. My bassoon teacher wanted me to go on to the conservatoire, but I refused. It made him angry first but later on he was very happy, because I organised 20 concerts for his ensemble.
AB: Did you start to tend more towards music theory?
JD: I was very lucky with teachers, even before going to university. My music history teacher was excellent. He taught us about French impressionism and did not say a word about music. Instead he brought many books and we looked at paintings and talked about them. He inspired us to think openly and I learned a lot about music. It is thanks to him that I decided in favour of musicology. And I had a great professor at university who let me do crazy things. I was always able to go outside the rules. I even defended my doctorate first in a very classical style and then with my own performance. This helped me to invent my own style. It was only later that I found out that this was unusual... if I had studied in Germany, I would probably not have become a musicologist in the end. But I became a musicologist and now I can terrorise musicians without practising. (laughter)
AB: It was quite similar with me. It was also my mother who encouraged me to do music. When I was five, I heard the Nightingale's Song on radio, a wonderful piece for violin and orchestra by the Czech composer Václav Trojan. I asked my mother what instrument it was and she explained it was the violin. I asked her, if I would be able to play the violin as well as the guy on radio and she was clever enough to say: "of course you will!" So I started to play the violin first at the music school in Sušice and then at the conservatoire in Pilsen. And, as in your case, it was my music history teacher, Vlasta Bokůvková, who encouraged me to continue with musicology at Charles University in Prague.
JD: What about composing?
AB: Composing came quite coincidentally. The first person I bumped into when I arrived in Prague at the age of 20 was Jan Hřebejk, who went on to become one of the best Czech film directors. We became close friends and he always asked me to compose some music for his study projects. Later on, his schoolmates started to work with me too and so step by step I became a film composer. It was as a result of a similar coincidence that I was asked to compose operas for the National Theatre in Prague. Everything in my life seems to start by chance. All I have had to do is just make sure I do everything properly so that people keep offering me new adventures. It has been like a string of pearls, one leading to the other and finally building into a necklace.
JD: What about dramaturgy, also an accident?
AB: Yes, I organized some concerts in Pilsen with music from the local archive. Later at the university in Basel, I organised a few concerts at the Department of Musicology with a repertoire from our archive. I always asked my co-students and professors to play with me. In 1995, I was asked to build up the Martinů Institute in Prague and one year later the Martinů Foundation created a festival and appointed me the programme director. Then David Dittrich asked me to do dramaturgy for Concentus Moraviae in 2004. I felt like someone with a brand new driving licence who has been told "I have a new Ferrari, would you like to drive it?" Because I really think that Concentus Moraviae with its great team and spectacular concert venues is the Ferrari among Czech festivals. I was really pleased to accept David´s offer.
JD: Where did the idea of Czech Dreams come from?
AB: 2004 marked the entry of the Czech Republic into the European Union. I was in the middle of preparing my dramaturgical concept for Concentus Moraviae 2004 when David came up with the idea of exporting a large part of the festival abroad. I came up with the title, we addressed foreign concert organisers and in the end more then one hundred concert were realised. It was one of the craziest years in our lives. There were so many individual concerts in so many places located far away from each other... but it was a great experience. Originally, the international part of the project was intended to be a single event. However, in November of the same year, Václav Havel organised a meeting of all Czech Dream towns in Prague and after the meeting he asked why such a great event should not be repeated? So we decided to go on.
But now about you again. What does the Kri kri Festival mean?
JD: Kri kri is the name of the festival I am most proud of. The title was inspired by strange drawings by Antonin Artaud called kri kri because they are magical and filled with voodoo… The idea was to create a festival of poly-poetry combined with a lot of music. At that time, I was in the middle of my doctorate on the points of convergence between music and poetry and I thought it was necessary to show the whole gamut of poetry, such as slam poetry, electronic poetry, polyphonic poetry… I invited many great poets over and they came, even the famous ones. We were lucky to do it in Ghent, which is a crazy city where the people in charge were crazy enough to lend us a gothic castle, for example. I learned that all you need to create a festival is five good people. Then you can do anything. And I learned all the aspects starting with ticketing at the door.
AB: After the Kri kri festival, you were asked to take over the Ghent Festival.
JD: It was the only time I ever applied for a job. I just took my tarot cards and I did not prepare anything. I laid the cards in front of the director and said the cards say I am the best. They were crazy enough to believe it. 3 months later there was a big revolution in the management, everybody was gone and I became the artistic coordinator of the biggest festival in Flanders. I had nothing; nothing was transferred or prepared and there were no contacts. I was 27 when I got this opportunity to do a really big festival. I just jumped into it and I made many mistakes, but that is the good thing about Belgium; they don't care, if you are young or old. While working in Ghent, I was asked to do a festival of Valery Gergiev in Rotterdam. The first thing for me was to leave the concert hall. You don't stay with the orchestra, but you go out and make music in the streets .I did crazy things in Rotterdam such as the longest orchestra in the world; for example, I positioned the Rotterdam Philharmonic along the famous Rotterdam Bridge and you had to walk by to hear the piece. Anyway, I left Rotterdam because what I was asked to do had collapsed completely. They decided to concentrate on the orchestra and on Valeri Gergiev so it didn't interest me anymore. At that time, I fell in love with the most beautiful woman of Germany and went to Potsdam.
AB: You started as a revolutionary and now you are working in Potsdam...
JD: But even there I try to get those things like John Cage´s Ryoanji into the festival and it works. I am fed up with the main players in Germany complaining about how there is still a 19th century tradition for holding concerts and how the audience is getting older. There are more audiences than ever before, the platform for classical music is growing. New ways of presenting music are happening everywhere, we do it naturally at Concentus Moraviae.
AB: Would you ask Valery Gergiev to make a program about the war in Ukraine nowadays?
JD: I never do anything about war. Anyway, I will always protect Valeri Gergiev, as he is a really great artist. How do you start with dramaturgy? Is it a skeleton to build on or do you start with one program and another one follows?
AB: In the case of CM, everything starts for me as a dialogue with David Dittrich. I strongly believe that the best ideas come out of discussions. I always need a structure and then I put meat on the bones. I continue talking with the artists and the people from the festival office, because if you talk to 10 people, you know 10 times as much as if you only talk to yourself.
JD: For me, the first things are the location, the stories and connecting the stories into one big story and then you need people who say what is impossible about your story and you have to make it realistic. On the level of the structure, the dramaturge's personal joy lies in playing with things like mathematics, making it into the form of a poem, a landscape, architecture, funny things that nobody knows about, but you are happy that they have an influence, and sometimes people notice, sometimes.
AB: You wrote a poem expressing your dramaturgy for Concentus Moraviae 2015.
JD: Yes indeed. The poem is the program of this year´s festival in nutshell. I like mathematics in poetry too, language is about mathematics, structure and form and I play with that. I have tried to make it into a poem in the hope that, even if you only see one concert, you will still feel that it is part of a bigger structure. Sometimes in my dark moments it seems like an illusion, but I still think it is possible.
AB: This is my key question for Concentus Moraviae and Czech Dreams as well; if you have one concert in one country, how can you make people feel the concept behind it? I think it is always good to try to present to people the context of the concert. They should be aware of the entire complex idea.
JD: What do you consider to be the ideal preparation time?
AB: When you do your first festival, it is possible to do it in one month as you have thousands of ideas. Starting from the second year, it is a long job to find out how to do it differently, how to do it better. It is ideal to have one year to think about that – starting two years ahead, so that it is finished one year before the festival starts.
JD: I am often asked "if the festival is in June, what do you do for the rest of the year?" People underestimate the fact that the process is a long work; it is 10% creativity and 90% hard work and making it possible.
AB: When you do the dramaturgy every year, do you need to close one year and then open new chapter or do you mix them?
JD: You have to be schizophrenic. In Ghent, I had to prepare 4 years at the same time. It works in your head and you have to able to let go of the moment that is there. Your colleagues will help you do it, otherwise you will go crazy. You need to connect with what is relevant at that moment, but at the same time you also have to think in the long term, so at different speeds all the time. Also you need to be busy with the politics, the economics, the whole arts scene and your own life at the same time...
AB: And to keep loving the music!
JD: Exactly, that often is difficult for organisers; they don't love it anymore. It should never become a job, you have to keep being surprised all the time. That is the good thing about switching. I believe you need to switch festivals. You have to stay very flexible. There is also a difference between a festival and a concert hall. A concert hall is your daily bread, while a festival is a big party. And people underestimate the hangover. After one month of a festival, you are happy, but broken.
AB: Can you compare the work of a dramaturge in different countries?
JD: The questions are different in each country, although the music is the same everywhere. My experience with Concentus Moraviae has been a very relaxed way of doing things. In Holland, you have to be stricter. In Germany, you first have to show that you can do it and then the sky is the limit, while in Belgium you don't have to have a clue about what you are doing, but the sky is the limit anyway. I feel similarities between Flanders and the Czech Republic. There is an adventurous spirit and at the same being peasants, drinking wine, not taking everything too seriously, laughing a lot. Humour is one of the most important aspects of Europe for me.
AB: The difference between Switzerland and the Czech Republic is that you are not allowed to improvise in Switzerland. If you do, they think you are not prepared and anything which has not been prepared is bad. The great advantage of working here is that you need to be well prepared, but you should still be open to surprises which should come through your work, but not from you, but from other people. To be open till the very last possible moment. I strongly believe in the possibility of approving things up to the very last moment. Not having to do it two years in advance.
JD: Improvisation is part of Concentus Moraviae this year. People sometimes think improvisation is empty, but there is always a structure.
AB: Do you prefer the main subject of the festival to be given by someone else or do you like to have a free hand? For me, it is interesting to start thinking about something you would not necessarily have thought about, if there is an intelligent focus ... like with the Norwegian, Spanish and Czech program for Concentus Moraviae 2014, which started out as something strange and became quite exciting at the end, an event which was interesting for both the audiences and the musicians.
JD: Does the fact that you are an experienced composer and musician affect your dramaturgy?
AB: As a former active musician, I know how much time it takes to learn a piece and I think twice before asking someone to study a new piece – it must be something which can be used for more than just one concert. It is a sort of common understanding that they accept your suggestions, if they see that you have thought about it seriously. How do you convince musicians to study a new repertoire?
JD: My favourite question for musicians is "What do you really want to perform?" and many of them are afraid and surprised to hear that. After one hour they say "well maybe...". What if people ask: who the hell made this dramaturgy?
AB: I don't mind saying that it was me! Many good musicians want to play at the Concentus Moraviae Festival, but they know that they have to do something in order to be accepted there, not just to play Smetana well... They need to adapt the concept, follow the theme... and the best of them have begun to appreciate that, because they know it makes sense and they learn something new.
One of the duties of the dramaturge is to commission new music and, if you are lucky, it becomes a repertoire piece. Do you commission new works and what is your criteria?
JD: What type of human beings they are. Whether or not they are famous is not important, at least not at my festival.
AB: If you were his contemporary, would you commission a piece by Richard Wagner?
JD: Well, I would prefer to commission Offenbach.
AB: What about money?
JD: Money can't be the basic criteria. You can create something good without much money and something bad with an enormous budget. The whole discussion about money in the arts and culture is ridiculous. Expenditure for culture is usually about 1% of the gross national product which is nothing and the European Commissioner for Culture is not taken very seriously. There is no respect for our work at a monetary level.
AB: My experience is that you have to get some money from the region, because the politicians consider the event to be more serious and relevant, if they have invested some money.
JD: If you want to create something, you have to find intelligent people. And it needs to be long-term. When Ghent received the title of a UNESCO Creative City, the representatives said the Film Music Festival and the Ghent Flanders Festival are important for us, they show what kind of city we are - we will support you with a certain amount for 6 years and now go to work and make us proud. Ghent is fortunate to have had very good mayors and at this time in our history mayors are far more important than Prime Ministers. Many of them are exceptional personalities and a good dramaturge has to explain the stories to them. Confucius said that a good state needs to deal with music and the arts not as a luxury, but as a basic element. Of course, some of events in arts are only for the elite, but it also shows that all is well with the community.
AB: Every festival takes place in a different place, it has different audience, budget, background. Are there generally applicable features of an excellent dramaturgy?
JD: It is enough to answer a few questions around the program: Is it consistent? Are the proportions interesting? Is it filled with love? Is it dangerous? Does it taste nice? Does it embrace you?
AB: Programs of the Concentus Moraviae Festival are prepared by another dramaturge each year. Have you met such a concept somewhere else?
JD: It shows that Concentus Moraviae is open to fresh ideas and that one can be sure the festival is full of surprises. Such a concept is often used in the context of visual arts, but not so much in the world of music festivals.
AB: Our dramaturgical activities crossed in the Concentus Moraviae Festival. I participated in four editions linked with Czech music, you are lucky to cooperate with the festival for the first time in it´s jubilee 20th edition. I presume the celebration of two decades of a festival will reflect meaningfully in the program as the motto "Let´s celebrate!" reveals. What is your dramaturgical ambition in 2015?     
JD: Let it be a real celebration mixing good energies of previous editions. Moravia will once again be very noticable on the map!